Welcome!
SimTrain, LLC is pleased to bring type-specific, full motion simulators to the Cirrus aircraft community. These new simulators are the latest addition to the Fidelity Flight Simulation MOTUS® family of General Aviation simulators.
The Fidelity Cirrus simulators are able to replicate a SR22 or SR20 aircraft, and additionally are able to simulate the Avidyne Entegra® PFD or standard 6-pack instrument displays. Fidelity coordinated closely with Cirrus in Duluth, MN to provide the necessary components to give the simulators the proper Cirrus look and feel. These simulators also include a CAPS (Cirrus Airframe Parachute System) deployment scenario, and training programs will emphasize the decision making process leading to CAPS deployment.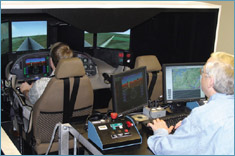 As with all MOTUS simulation devices, the SimTrain Cirrus simulators include Fidelity's all-electric six degree-of-freedom motion base and LCD Mosaic Wall® external visual display. The external visual display includes a worldwide airport, navaid and topographical database, so pilots can select the most suitable training environment.